Shop Chromax Colored Golf Balls Online
Easy to see colored golf balls beneficial for all golfers. Especially helpful for visually impaired, eye site challenged, glaucoma patients, senior men and women. These brightly colored and cool golf balls are USGA tournament approved and make great gifts. High visibility from patented reflective metallic and chrome coatings. Makes fun gifts for tournaments, birthdays, holidays and kids. Shipping: $4.95 and FREE for orders over $35.  US shipping only.
Silver Golf Balls - Chromax Distance Half Dozen
CMD6SIL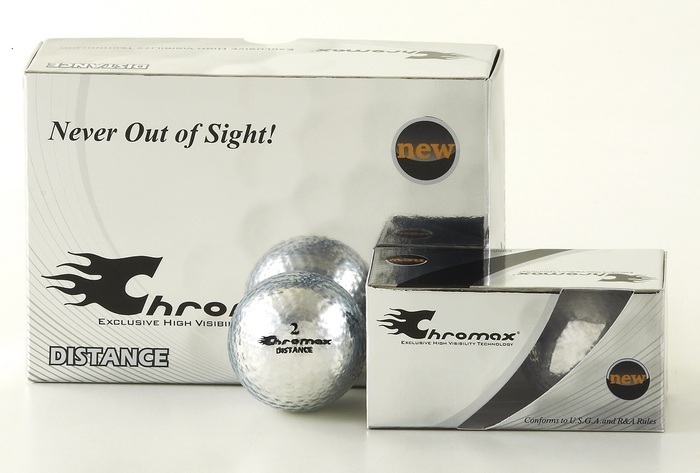 Silver Golf Balls - Chromax Distance Half Dozen

Free shipping on all golf ball orders over $35 in the USA!
Chromax® Golf balls are the only high visibility reflective color golf ball on the U.S.G.A. and R&A Conforming golf ball list. The patented Chromax® reflective Surlyn® coating gives golfers a competitive visual advantage over traditional white golf balls. Golfing with Chromax® speeds up pace of play and reduces lost balls.

Chromax® Distance
(3) High Visibility Colors: Green, Gold and Silver
90 compression: Translucent soft Surlyn® coating.
Professional level performance.
Designed for golfers with faster swing speeds and lower handicaps.
Numbering on balls may vary from pictured.
SPECIFICATIONS
| | |
| --- | --- |
| Compression | 90 |
| Construction | Soft outer cover, metallic layer and solid core |
| Core Diameter | 1.57" |
| Inner Core | The high energy core is mixed with titanium powder. It is molded under high temperatures and extreme pressure for superior durability, elasticity and a high coefficient of restitution. |
| Outer Core | The poly-resin outer cover offers superior cut resistance, cold temperature flexibility, medium spin rate, and a high energy return. |
| Dimple | The patented 482 dimples on Chromax metallic golf balls are arranged in carefully designed patterns in varying sizes to create aerodynamic properties that optimize trajectory and spin. |
| Finishing | Two layers of the highest grade polyurethane create an attractive, durable and stain-resistant finish. |
| Cover | Surlyn® |